Executive Director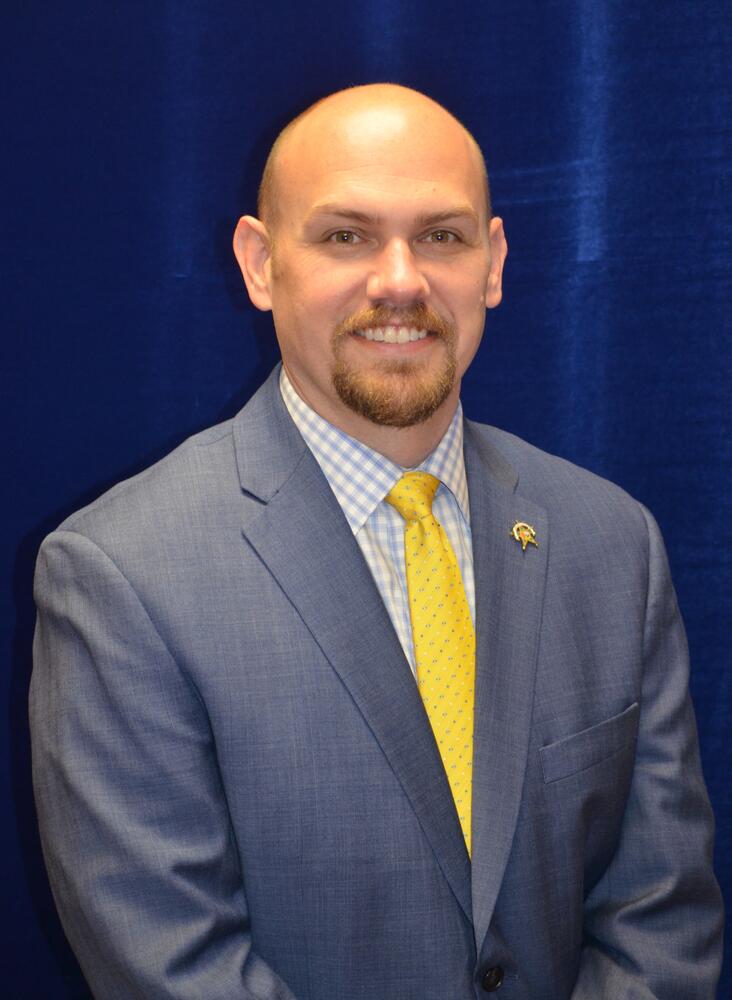 Jarrod M. Bruder joined the South Carolina Sheriffs' Association as Deputy Director in August of 2013. Following the retirement of longtime Director, Jeff Moore, Bruder was promoted to the role of Executive Director for the South Carolina Sheriffs' Association in August of 2014.
Role of Executive Director
As Executive Director, Jarrod provides critical assistance and support to Sheriffs throughout South Carolina. Sheriffs depend on Bruder to research legal questions, provide alternative funding methods, offer guidance on departmental policy, provide insight in to governmental processes, and many other matters. Mr. Bruder also serves as a lobbyist for the Association and works diligently to voice the Sheriffs' concerns at the Statehouse and promote the law enforcement profession through legislative initiatives. As the Association's lobbyist, Jarrod works closely with Sheriffs, Chiefs, and other agency heads throughout South Carolina to ensure the concerns of the law enforcement profession are being heard.
In addition to these duties, Mr. Bruder also oversees the day to day operations of the South Carolina Sheriffs' Association, which consists of all 46 Sheriffs and over 17,000 honorary members. The Sheriffs' Association provides a wide variety of training opportunities not only for Sheriffs and other law enforcement agencies, but also for members of the general public.
Mr. Bruder represents the South Carolina Sheriffs' Association on the South Carolina Adult Protection Coordinating Committee, the South Carolina Victim's Services Coordinating Committee, Governor Nikki Haley's Domestic Violence Task Force, the South Carolina Impaired Driving Prevention Council, the South Carolina Amber Alert Oversight Committee (Chairman), the South Carolina Police Accreditation Council, the South Carolina Human Trafficking Task Force, and the Children's Criminal Justice Act Taskforce. Bruder also represents the South Carolina Sheriffs' Association on the National Sheriffs' Association's Presidents and Executive Directors Committee and the Governmental Affairs Committee. Although Jarrod has never been a law enforcement officer himself, he attributes his passion for the profession to his father, brother, and brother-in-law who have all taken the oath to serve and protect.
Prior to the Sheriffs' Association, Jarrod served as the Executive Director of the South Carolina Law Enforcement Officers' Association (SCLEOA). In that position, Bruder was involved with a number of key legislative issues. Perhaps most notably, Bruder played a key role in the restructuring of the Police Officers Retirement System in 2012. In addition, Bruder also served as the Grant Coordinator for United States Congressman J. Gresham Barrett. He also worked in Youth Ministry at First Baptist Church, North Augusta.
Mr. Bruder is a proud graduate of Clemson University, where he earned his Bachelor's Degree in Political Science and minored in Communication. Jarrod is married to his wife Joy and has three children – Ben, Mackenzie and Katelyn.
Executive Director Committees
Jarrod Bruder represents the South Carolina Sheriffs' Association on the following Committees:
SC Adult Protection Coordinating Committee
SC Victim's Services Coordinating Committee
SC Impaired Driving Prevention Council
SC Amber Alert Oversight Committee
SC Police Accreditation Council
SC Human Trafficking Task Force
Children's Criminal Justice Act Taskforce
NSA President and Executive Director's Committee and Governmental Affairs Committee
Take Palmetto Pride Where You Live Litter Commission Board